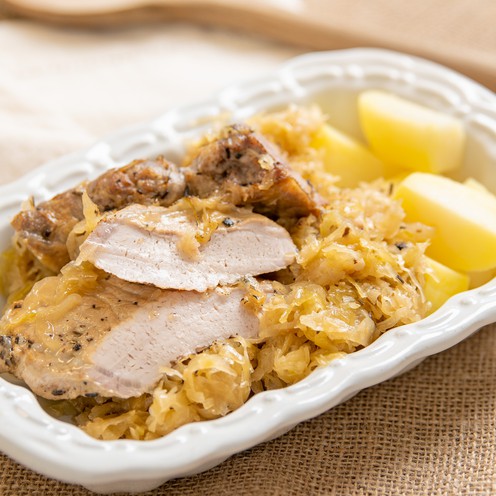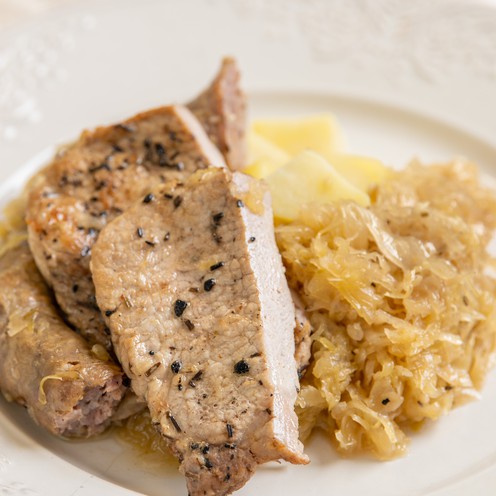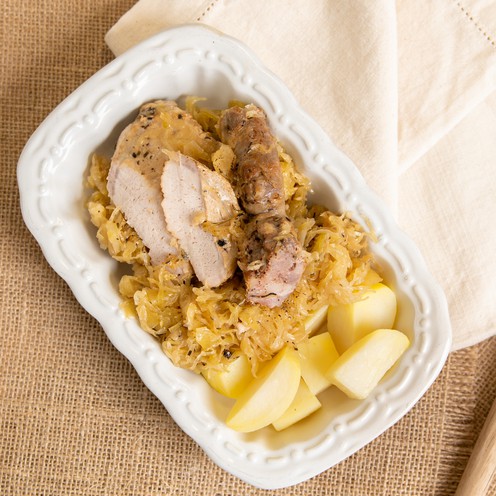 VALFRESCO
Sauerkraut with Sausage and Pork Loin for 4 persons (2,3 kg)
Unit of measure: Kg, Price per single unit:
(VAT included in the price)
Cooked sauerkraut from a local Istrian producer, with roasted pork loin in white wine and roasted sausage from our own production, with the addition of cooked potatoes from Gorski Kotar. An Istrian classic, perfect for winter days.
 
Instructions for consumption: take the desired amount of food out of the package, put it in a bowl and heat it on the stove or in the microwave. Serve with the addition of olive oil as desired.
 
SOUR CABBAGE WITH SAUSAGE AND PORK LOIN
Ready-made dish of sauerkraut with roasted home-made sausage and pork loin with the addition of potatoes for 4+ servings
Ingredients: sauerkraut 27% (grated sauerkraut, water, salt up to 3%, preservative potassium sorbate up to 0.13%), boneless pork loin in a mixture of spices 20% (pork - back, salt, garlic, rosemary, pepper ), roast pork sausage 14% [pork 73%, pork fat, white wine (contains SULFITE), garlic, salt, pepper, spices, edible casing: small pork intestine (small pork intestine, salt, water) ], white wine (contains SULFITE), garlic, sunflower oil, smoked bacon without skin 3% (pork belly, salt, sugar, dextrose, antioxidant: sodium ascorbate, preservatives: sodium nitrite and potassium nitrate), oil obtained by mixing refined olive oil and (extra) virgin olive oil, salt, pepper, spices. Contains GLUTEN, EGG, SOY, CELERY, SESAME, MILK AND MUSTARD in traces.
 
Net weight: 2300 g
Store at + 2 ° C to + 4 ° C.
 
Nutritional infomation - typical value per 100 g of product: energy 825 kJ / 198 kcal, fats 14 g of which saturates 4 g, carbohydrate 6 g of which sugars 1 g, proteins 11 g, salt 2 g
 
Produced by: Valamar Riviera d.d. Porec, Stancija Kaligari 1
Made in Croatia.