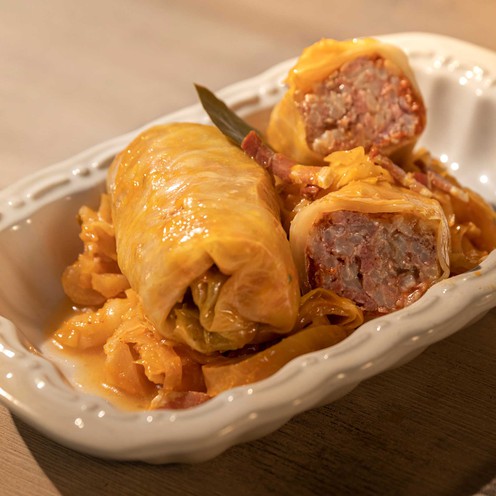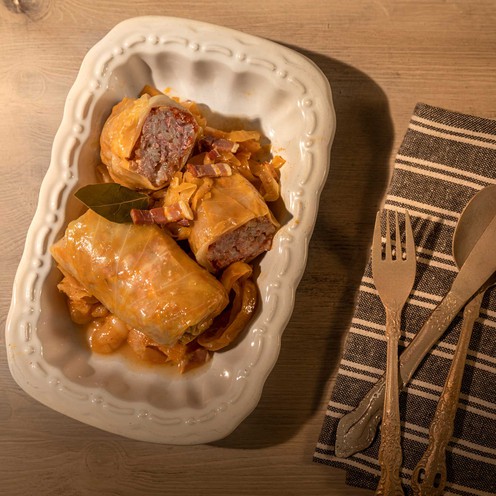 VALFRESCO
Sarma Sour Cabbage Rolls for 4 persons (2 kg)
Unit of measure: Kg, Price per single unit:
(VAT included in the price)
Traditional, tasty sarma is a delicious winter dish prepared with homemade cabbage from an Istrian family farm.  Pair the sarma cabbage rolls with creamy mashed potatoes or boiled potatoes for a perfect combination.
 
Serving: put the desired amount in a pot and heat up on the stove or in the microwave oven. If you wish to freeze the remaining amount, be sure to do so before the expiration date. Frozen food needs to be defrosted in the refrigerator and cooked until boiling before consumation. Once defrosted food must not be refrozen.
 
SARMA - SOUR CABBAGE ROLLS
Ready meal for 4+ servings
Ingredients: sauerkraut 30% (sauerkraut, salt, papper, preservative: potassium sorbate), water, beef 10%, pork 10%, onion, sunflower oil, garlic, rice, smoked pancetta (pork belly, salt, sugar, dextrose, antioxidant: sodium ascorbate, preservatives: sodium nitrite and sodium nitrate), pesto - notch [bacon 50% pork meat bacon without ribs, salt, sugar, dextrose, antioxidant: sodium ascorbate, preservative: sodium nitrite and potassium nitrate), pork solid fat, spices, smoke aroma, salt], EGG, salt, pepper, minced hot chilli peppers. May contain races of GLUTEN, CELERY and MUSTARD.
 
Net weight: 2000 g
Store at temperatures +4°C up to +8°C.
 
Nutritional infomation - typical value per 100 g of product: energy 905 kJ/ 218 kcal, fat 15 g of which saturates 4 g, carbohydrate 9 g of which sugars 3 g, proteins 10 g, sodium 3 g.
 
Produced by: Valamar Riviera d.d. Poreč, Stancija Kaligari 1
Made in Croatia.