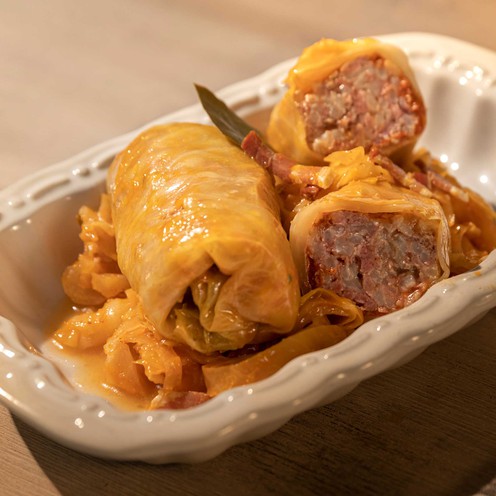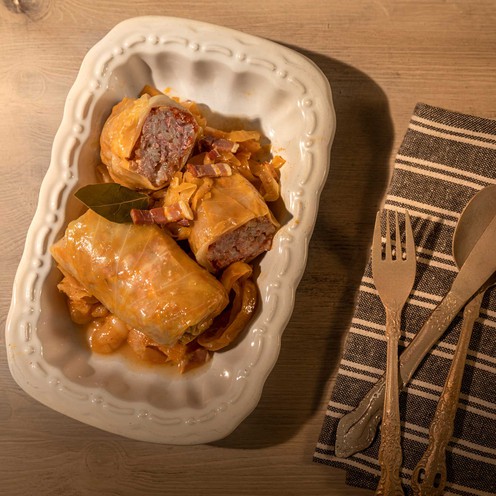 VALFRESCO
Sarma - Sour cabbage rolls for 2 persons (1 kg)
Unit of measure: Kg, Price per single unit:
(VAT included in the price)
A traditional dish prepared from meat, rice and cabbage from the local family farm. Pair it with mashed or boiled potatoes and enjoy a delicious winter lunch!
 
Serving: put the desired amount in a pot and heat up on the stove or in the microwave oven. 
 
SARMA - SOUR CABBAGE ROLLS
Sour cabbage rolls for 2+ servings.
Ingredients: sauerkraut 30% (sauerkraut, salt, papper, preservative: potassium sorbate), water, beef 10%, pork 10%, onion, sunflower oil, garlic, rice, smoked pancetta (pork belly, salt, sugar, dextrose, antioxidant: sodium ascorbate, preservatives: sodium nitrite and sodium nitrate), pesto - notch [bacon 50% pork meat bacon without ribs, salt, sugar, dextrose, antioxidant: sodium ascorbate, preservative: sodium nitrite and potassium nitrate), pork solid fat, spices, smoke aroma, salt], EGG, salt, pepper, minced hot chilli peppers. May contain races of GLUTEN, CELERY and MUSTARD.
 
Net weight: 1000 g
Store at a temperature of +4°C up to +8°C.
 
Nutritional infomation - typical value per 100 g of product: energy 905 kJ/218 kcal, fat 15 g of which saturates 4 g, carbohydrate 9 g of which sugars 3 g, proteins 10 g, sodium 3 g.
 
Produced by: Valamar Riviera d.d., Stancija Kaligari 1, Poreč
Made in Croatia.