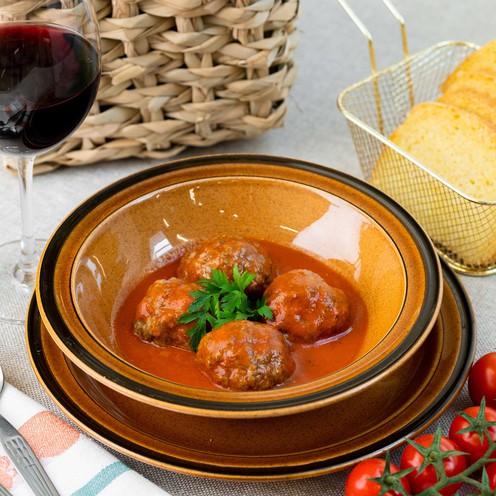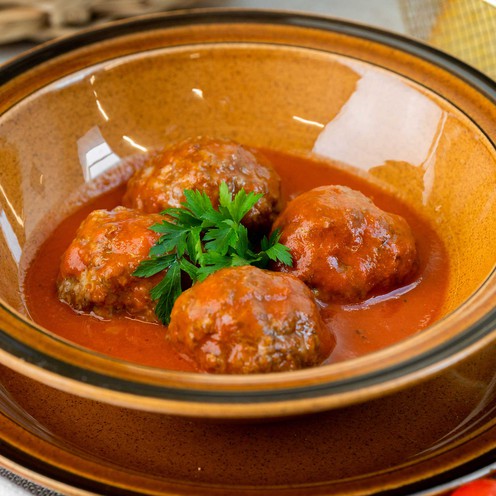 VALFRESCO
Meatballs in tomato sauce for 1 person (350 g)
Unit of measure: Kg, Price per single unit:
(VAT included in the price)
Country of origin: Croatia
Good, old-fashioned meatballs are always a great idea for a family lunch. Valfresco homemade meatballs are made from ground beef and pork meat, and the juicy tomato sauce will go perfectly with creamy puree or one of Valfresco's homemade pasta.
 
Serving: remove the desired amount of meatballs with the sauce from the package, place in a bowl and heat on the stove or in the microwave.
 
MEATBALLS IN TOMATO SAUCE
Meatballs in tomato sauce for 1+ serving
Ingredients: tomato sauce 59% [tomato pulp 38% (tomato 70%, tomato juice 30%, acidity regulator: citric acid), water, onion sauce, tomato concentrate 5% (tomatoes 99.6%, salt), carrot, sunflower oil, CELERY, butter (contains MILK), WHEAT flour, garlic, oil obtained by mixing refined olive oil and (extra) virgin olive oil, salt, lemon juice, sugar, spices, pepper], meatballs 41% [ beef 42%, pork 42%, onion sauce, EGG, garlic,bread crumbs (WHEAT flour, water, yeast, salt), salt, pepper]. May contain traces of GLUTEN, SESAME, SOY, MUSTARD and NUTS.
 
Net weight: 350 g
Store at temperatures from + 4 ° C to + 8 ° C
 
Nutritional information - typical value per 100 g of product: energy 648 kJ / 155 kcal, fat 3 g of which saturates 3 g, carbohydrate 8 g of which sugars 6 g, protein 10 g, salt 2 g.
 
Produced by: Valamar Riviera d.d. Porec, Stancija Kaligari 1
Made in Croatia.