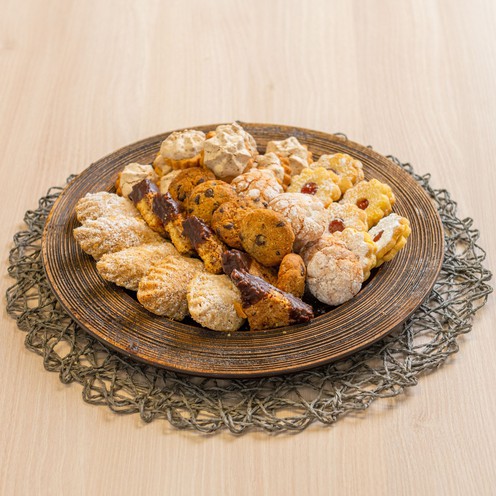 VALFRESCO
Homemade cookie mix (950 g)
Unit of measure: Kg, Price per single unit:
(VAT included in the price)
The mix of homemade cookies consists of: "daisy" cookies, paws with walnuts, triangles with hazelnut, cookies "nonice", mandorla cookies and popular "choco - cookies". Try them all!
 
MIX OF HOMEMADE COOKIES
Ingredients: WHEAT flour type 550, BUTTER, sugar, WHEAT flour type 400, marzipan with 33% almonds 20% (sugar, ALMONDS 32.5%, glucose syrup, stabilizers: glycerol and sorbitols, water, bitter ALMOND 1%, preservative: sorbic acid, natural flavors), ALMOND, chocolate with min. 43.5% cocoa parts (sugar, cocoa mass, dextrose, cocoa butter, emulsifier: SOY lecithin), mixed fruit jam (sugar, fruit pulp in variable proportions 45%: apple, plum, cherry, acidity regulator citric acid, substance for gelling pectin, preservatives potassium sorbate and SULFUR DIOXIDE), EGG, pork fat (pork fat, MILK), WALNUT, powdered sugar (sugar, corn starch 5%), EGG white, HAZELNUT, brown sugar, apricot fruit spread ( sugar, apricot pulp 40%, gelling agent pectin, acidity regulator citric acid, preservatives (potassium sorbate, SULFUR DIOXIDE), lemon, roasted HAZELNUT, insoluble powdered sugar (dextrose, sugar, vegetable fats (palm), flavors), chocolate with min. 43% cocoa parts (sugar, cocoa mass, vegetable fat (palm, shea), emulsifiers: soy lecithin and E 476; aroma), EGG yolk, strong alcoholic drink 37.5% vol.alc. (demineralized water, refined ethyl alcohol, sugar, flavoring, coloring: regular caramel), vanilla sugar (sugar , aroma: vanillin), bourbon vanilla flavored sugar [sugar, natural vanilla aromas with other natural aromas (contains MILK) ground vanilla bean), aromatic orange preparation (rice flour, sugar, fructose syrup, carrot concentrate, safflower concentrate, ascorbic acid, alpha-tocopherol), fruit liqueur from marasca cherry distillate (sugar, water, marasca cherry distillate, alcohol, natural flavors), water, baking powder [raising agents (disodium diphosphate, sodium hydrogen carbonate), corn starch], natural lemon aroma with other natural aromas (aromatic preparation, natural aromatic substance, rice flour, fructose syrup, safflower concentrate, alpha-tocopherol), salt, cinnamon. May contain traces of cereals containing GLUTEN, PEANUTS, NUTS, CELERY and SESAME.
 
Nutritional information - typical value per 100 g of product: energy 2428 kJ/581 kcal, fats 32 g of which saturated fatty acids 12 g, carbohydrates 64 g of which sugars 40 g, proteins 9 g, salt 0.60 g
 
Produced by: Valamar Riviera d.d. Poreč Stancija Kaligari 1
Made in Croatia.