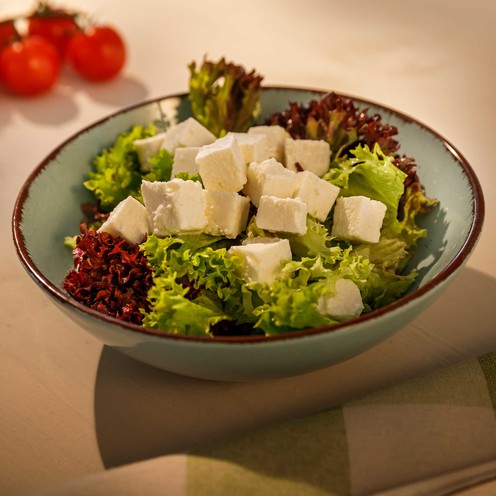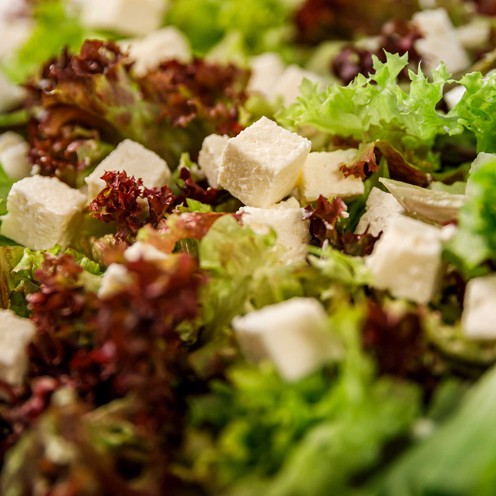 VALFRESCO
Fresh Lettuce Salad with Curd for 2 persons (400 g)
Unit of measure: Kg, Price per single unit:
(VAT included in the price)
A mix of green leaf lettuce with dry curd cheese from Latus milk farm from Istria. A vinaigrette of olive oil, apple cider vinegar, mustard and spices is included. The lettuce is washed and ready to eat.
 
GREEN LETTUCE SALAD WITH CURD
Mixture of fresh green leaf lettuce with curd and dressing vinaigrette for 2+ servings
Ingredients: (salad) in variable ratios (50%) green lettuce, lolo rosso, lolo biondo, dry curd cheese 25% (MILK), salad dressing 25%: [oil made from mixing refined olive oil and (extra) virgin olive oil, apple cider vinegar (SULPHITES), water, mustard (water, MUSTARD seeds, vinegar, sugar, salt, spices, aroma)]. May contain traces of CELERY.
 
Net weight: 400 g (300 g salad + 100 g dressing)
Store at temperatures +2°C up to +4°C.
 
Nutritional information - typical values per 100 g (salad with dressing): energy 764 kJ/185 kcal, fat 18 g of which saturateds 4 g, carbohydrate 2 g of which sugars 1 g, protein 3 g, salt 0,8 g.
 
Product is ready to eat.
Produced by: Valamar Riviera d.d. Porec, Stancija Kaligari 1
Made in Croatia.
The curd in this dish is from the Latus dairy, Žminj.