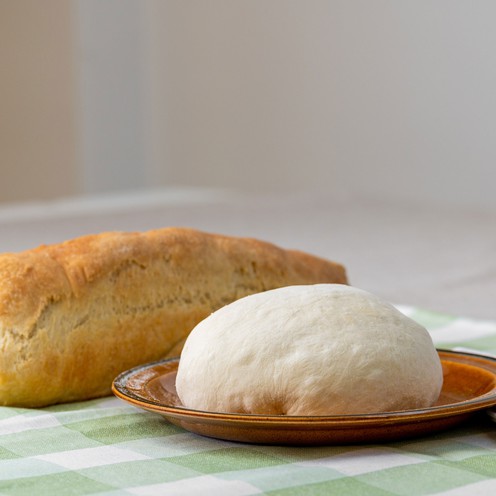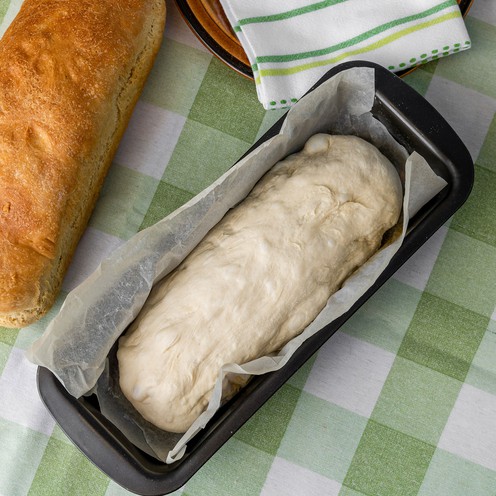 VALFRESCO
Fresh homemade dough for semi-white bread (900 g)
Unit of measure: Kg, Price per single unit:
(VAT included in the price)
The smell of freshly baked homemade bread can now fill your home as well. Prepare your perfect semi-white bread with ease and in just few minutes.
 
Instructions for preparation: take the dough out of the bag and shape it into the desired shape, and place it in a baking paper lined mold or baking tray. Allow to rise at room temperature for about 2 hours or until it doubles in volume. Bake in a preheated oven at 160 ° C for 40-55 minutes for a softer crust, or at a temperature of 175 ° C for 50 minutes for a crispier crust. Additional tip: put a bowl of the water (about 900 ml) in the oven at same time as the dough. Water vapor will help the dough when baking and give the product shine and lightness.
 
FRESH DOUGH FOR SEMI-WHITE BREAD
Fresh yeast dough for making wheat mixed bread and pastries
Ingredients: WHEAT flour type 550, water, WHEAT flour type 850, sunflower oil, salt, sugar, yeast. May contain traces of other CEREALS containing GLUTEN, MILK, EGG, PEANUTS, NUTS, SESAME and SOY.
 
Net weight: 900 g
Store at temperatures from + 4 ° C to + 8 ° C.
 
Nutritional information - typical value per 100 g of product: energy 1092,8 kJ/258,8 kcal, fat 5.7 g of which saturates 0.7 g, carbohydrate 44.5 g of which sugars 1.3 g, protein 7.4 g , salt 1.2 g.
 
Produced by: Valamar Riviera d.d. Porec Stancija Kaligari 1
Made in Croatia.