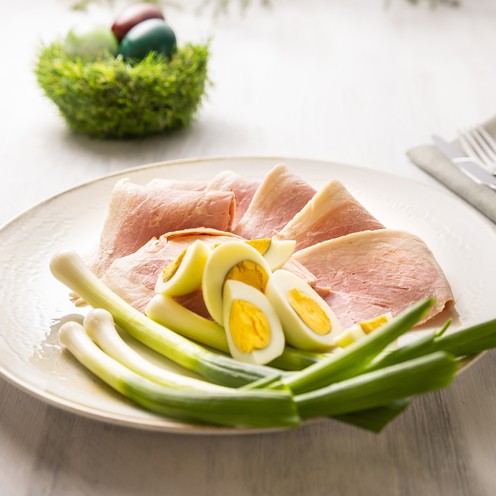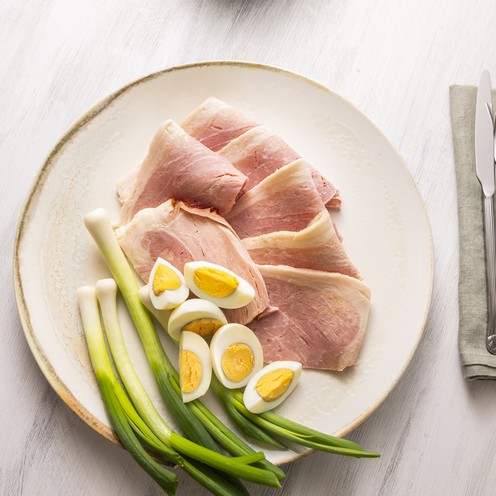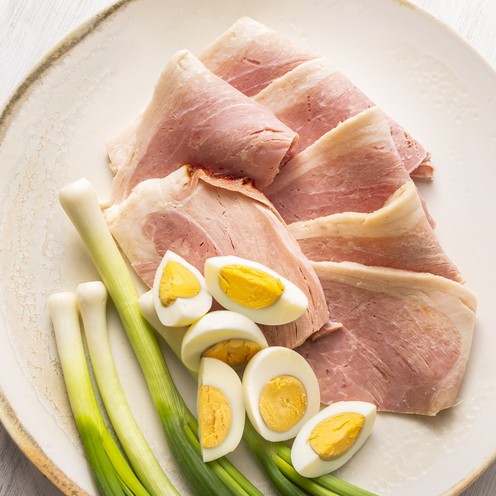 VALFRESCO
Cooked Ham for 4 persons (800 g)
Unit of measure: Kg, Price per single unit:
(VAT included in the price)
Cooked ham is an indispensable part of traditional Easter meals, so look no further. Choose this locally sourced cooked ham from the local producer Buretić Bregi, which we hand-carved in our Valfresco Kitchen. For a complete and delicious traditional Easter breakfast, serve the ham with some fresh and crunchy spring onions, sweet bread – pinca, and fresh boiled eggs which you can all find in our Valfresco offer.
 
Instructions for consumption: for consumption without prior heat treatment.
 
COOKED PROSCIUTTO HAM
Cooked ham (prosciutto) for 4+ servings
Ingredients: pork leg, water, salt, nitrite, polyphosphate, dextrose. 100 g of the finished product obtained from 130 g of fresh meat.
 
Net weight: 800 g
Store below temperature 4°C.
 
Nutritional infomation - typical value per 100 g of product: energy 645.3 kJ/154.23 kcal, fat 4.47 g of which saturates 1.8 g, carbohydrate 0.5 g of which sugars 0.2 g, protein 28, 5 g, salt 1.6 g.
 
Produced by: Buretić Bregi d.o.o. Anđeli 74b, 51211 Matulji
Packaged and placed on the market: Valamar Riviera d.d., Stancija Kaligari 1, Poreč
Vacuumed.
Made in Croatia.