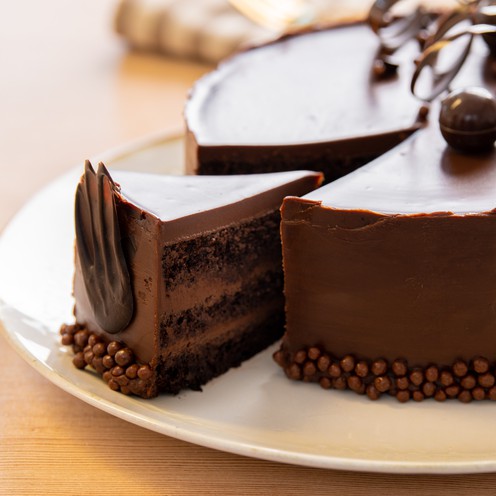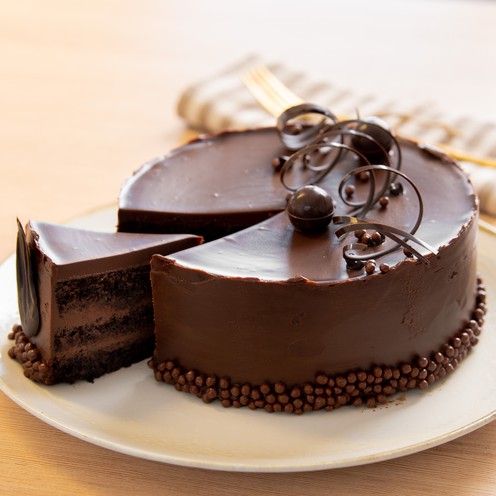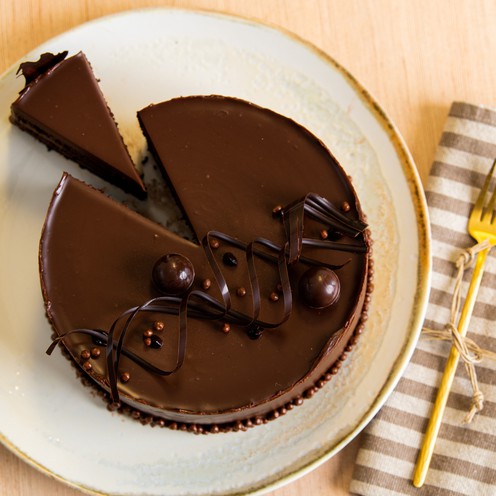 VALFRESCO
Chocolate Cake for 12 Persons (1,8 kg)
Unit of measure: Kg, Price per single unit:
(VAT included in the price)
Country of origin: Croatia
Chocolate cake from our Valfresco kitchen that will delight you with its juicy chocolate cake and delicious chocolate frosting. The perfect choice for all chocolate lovers. Before serving, leave the cake for half an hour at room temperature to let it soak up all its perfect flavors.
 
Directions for consumption: remove the cake from the refrigerator to room temperature for at least half an hour before serving to permeate the flavors.
 
CHOCOLATE CAKE
Chocolate cake for 12+ servings
Ingredients: cream (cream with 36% milk fat, stabilizer: carrageenan. Contains MILK), MILK, chocolate with min. 52% cocoa parts 15% (sugar, cocoa mass, cocoa butter, reduced fat cocoa powder, emulsifiers: SOYA lecithin; E476; aroma), milk chocolate with 33.6% cocoa parts 15% (sugar, cocoa butter, whole milk in powder, cocoa mass, emulsifier: SOY lecithin, natural aroma of vanilla), EGG, sugar, WHEAT flour, cocoa powder with 22-24% cocoa butter 4% (cocoa powder, acidity regulator: potassium carbonate, aroma: vanillin), sunflower oil, crunchy balls coated with milk chocolate (68.5%) (sugar, rice flour, cocoa butter, whole fat MILK powder, reduced fat cocoa powder, skimmed MILK powder, whey powder (MILK), emulsifier: sunflower lecithin for polishing: shellac, starch, glucose syrup), chocolate with min. 70.1% cocoa parts 1% (cocoa mass, sugar, cocoa butter, emulsifier: SOY lecithin, natural vanilla flavor), baking powder [loosening agents (disodium diphosphate, sodium hydrogen carbonate), corn starch]. It contains traces of other CEREALS that contain GLUTEN (RYE, etc.), PEANUTS, ALMONDS, HAZELNUTS, other NUTS and SESAME.
 
Net weight: 1800g
Store at temperatures from + 4 ° C to + 8 ° C
 
Nutritional information - typical value per 100 g of product: energy 1633 kJ / 391 kcal, fat 25 g of which saturated fatty acids 15 g, carbohydrates 36 g of which sugars 31 g, protein 6.3 g, salt 0.29 g.
 
Produced by: Valamar Riviera d.d. Poreč Stancija Kaligari 1
Made in Croatia.
Origin of chocolate: Croatia and the EU.