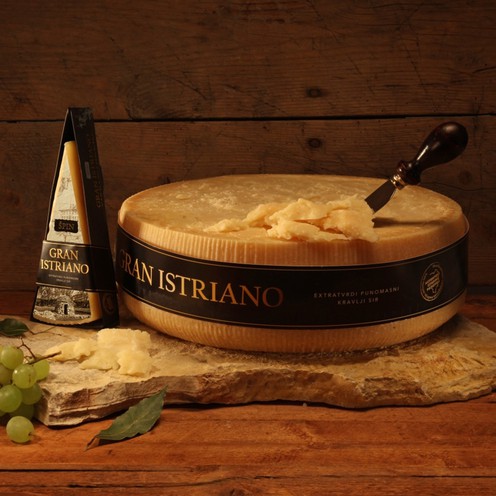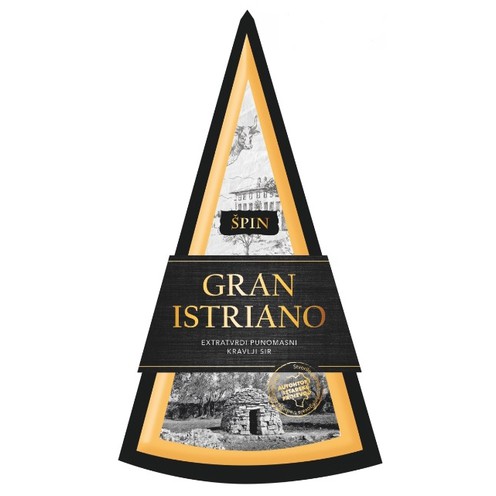 AGROLAGUNA D.D.
Špin Gran Istriano Istrian Cheese 250 g
Unit of measure: Kg, Price per single unit:
(VAT included in the price)
Hard full-fat cutting cheese that becomes extra hard cheese suitable for grating when aged. Made from pasteurised full-fat cow milk. Unlike classic Grana type cheeses, Gran Istriano is not made using the press. It is "self-pressed" under its own weight. Suited to all occasions, either consumed as a delicacy on its own, or as a welcome cheese with an aperitif or as an "incentive" to spend more time together over a glass of wine. It may also be served grated to complement various dishes.
 
The story of Špin cheese begins and ends at stancija Špin, a sheep farm on the north-west coast of Istria in Tar near Poreč, only two kilometres away from the sea. The region has a long history of livestock and sheep raising so that it is only natural for this stancija estate to have specialised in sheep farming in the course of the 20th century. Today's modern dairy farm flanks the traditional Istrian house Špin, a perfect illustration of the approach to the production of Špin cheese with modern technology complementing the wisdom of our century old dairy farming tradition. Špin Istrian cheeses bear a unique signature of the Istrian soil, drawing out the very best from the Istrian climate. Istrian pasture lands where our darling cows and our darling sheep graze make the most of the vicinity of the Adriatic Sea that provides the sun, the salt and the inebriating grass fragrance, while the Mirna River and Mount Učka bring along frequent rains and mainland coolness.