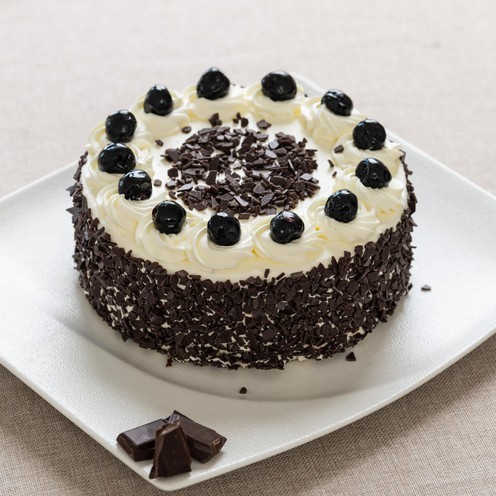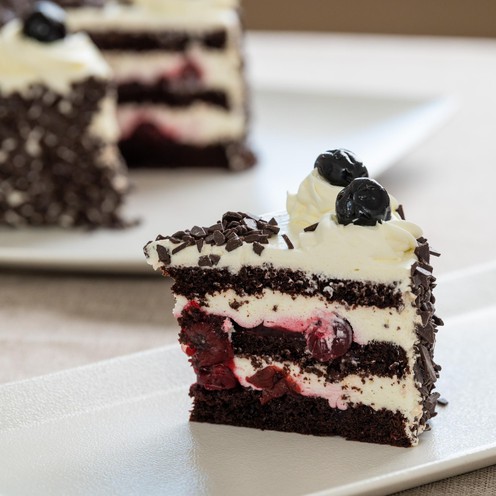 VALFRESCO
Schwarzwald Cake for 8 persons (1,25 kg)
Unit of measure: Kom, Price per single unit:
(VAT included in the price)
Schwarzwald cake is a famous classic originating from Germany. Many people's favorite cake with a sweet and sour cherry filling and sweet cream between a dark biscuit with cocoa delights with its taste!
 
SCHWARZWALD CAKE
Cherry cake for 8+ servings
Ingredients: cream preparation with 18% fat (cream 94.5% (contains MILK), beef gelatin, emulsifier: acetic acid esters mono- and diglycerides of fatty acids), EGG, cherry filling 10% (cherry 65%, glucose - fructose syrup, water, modified corn starch, preservative K - sorbate, thickener agar, salt, acidity regulator citric acid), sugar, decor crumbs - sugar topping (sugar, fully hardened vegetable oils and fats (palm kernel fat) and sunflower oil) , cocoa powder with reduced fat (16%), emulsifier: sunflower lecithin, glucose syrup, aroma (vanillin)], cooking cream with 15% fat (cream 99% (contains MILK), beef gelatin), cherry compote - liquid part (cherries, water, sugar), cream (cream (contains MILK) with 36% milk fat, stabilizer: carrageenan), WHEAT flour type 550, cherries 5%, cocoa powder with 22-24% cocoa butter (cocoa powder, regulator acidity: potassium carbonate, aroma: vanillin), candied amaren cherries (60% cherries, glucose syrup, canned) ans: potassium sorbate, acidity regulator: citric acid, colors: anthocyanins and brilliant black BN, flavors), invert sugar, basic mixture for stabilizing whipped cream - and cream for covering (sugar, maltodextrin, dextrose, beef gelatin, modified potato starch, whey powder - contains MILK), fruit liqueur from maraschino distillate distillate (sugar, water, maraschino sour cherry distillate, alcohol, natural flavors), MILK, sunflower oil, baking powder (disintegrants (disodium diphosphate, sodium hydrogen carbonate), corn starch]. May contain other cereals containing GLUTEN, PEANUTS, SOY, NUTS, CELERY and SESAME.
 
Net weight: 1250 g
Store at a temperature of + 2 ° C to + 4 ° C.
 
Nutritional information - typical value per 100 g of product: energy 1499 kJ / 385 kcal, fat 19 g of which saturated fatty acids 11 g, carbohydrates 40 g of which sugars 33 g, protein 7 g, salt 0.4 g.
 
Produced by: Valamar Riviera d.d. Porec, Stancija Kaligari 1
Made in Croatia.