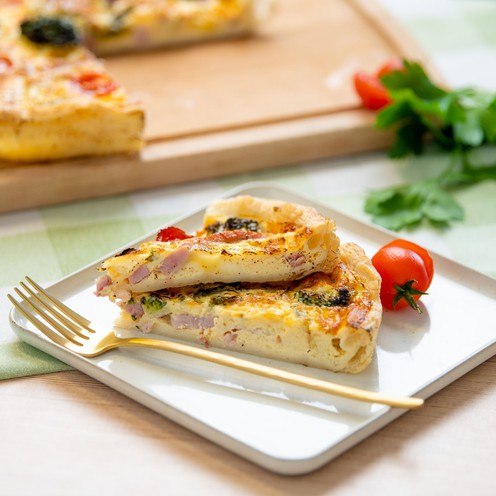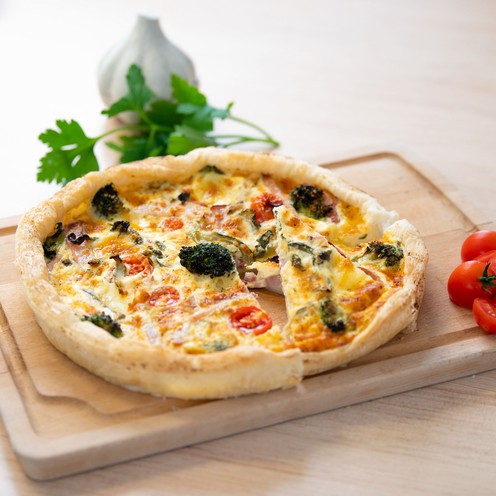 VALFRESCO
Salty puff pastry pie with cheese, ham, egg and vegetable filling (1 kg)
Unit of measure: Kom, Price per single unit:
(VAT included in the price)
Parlez-vous francais? Quiche Lorraine language is understood by everyone who tries it! You will fall in love with this French dish made by our Valfresco kužina. We added various vegetables to it, and in the salty stuffing we used home-made cooked ham, milk and eggs from Istrian producers. Serve it hot as an appetizer or main course, and it's great cold too so you can eat it for breakfast or a snack. Bon appetite!
 
Instructions for consumption: remove the lid from the pan and place the product in a preheated oven at 140 ° C and heat for 15 minutes. The packaging is not suitable for heating in a microwave oven. If you want to heat the dish in the microwave, move it to a suitable container. It can also be eaten cold.
 
QUICHE LORRAINE
Salty puff pastry pie with cheese, ham, egg and vegetable filling for 2+ meals
Ingredients: stuffing of cheese, ham, eggs and vegetables 68% [cooked ham 22% (pork leg, water, salt, nitrite, polyphosphate, dextrose), mozzarella cheese with 40% m.m. 22% (pasteurized MILK, salt, microbiological cultures), MILK, EGG, broccoli 11%, tomato 6%, hard cheese 3% (MILK, salt, rennet, preservative: lysozyme from EGG), WHEAT flour, salt, pepper], puff pastry 32% (WHEAT flour, vegetable margarine (vegetable fats and oils: palm, rapeseed, coconut, water, salt, emulsifiers: mono - and diglycerides of fatty acids, flavors, acidifying agent: citric acid) water, salt, extract WHEAT malt). Contains GLUTEN, SOY and CELERIUM.
 
Net weight: 1000 g
Store at + 4 ° C to + 8 ° C.
 
Nutritional information - typical value per 100 g of product: energy 1251 kJ / 300 kcal, fat 19 g of which saturates 10 g, carbohydrates 15 g of which sugars 2 g, protein 17 g, salt 1 g
 
Produced by: Valamar Riviera d.d. Porec Stancija Kaligari 1
Made in Croatia.