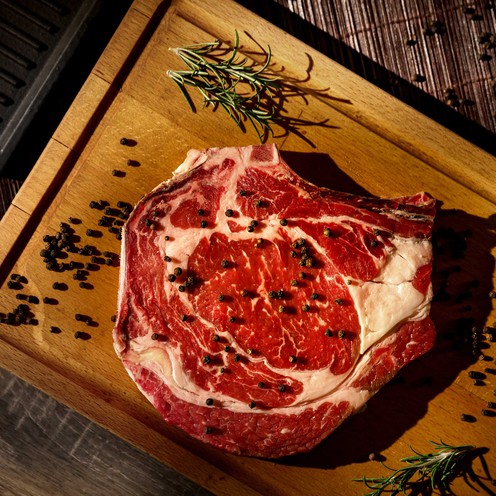 OPG ORLIĆ
Matured Beef Sirloin Black Angus Steak with bone (700 g)
Unit of measure: Kg, Price per single unit:
(VAT included in the price)
Prepare perfectly soft and delicious steaks in your home. These steaks come from the highest quality Black Angus beef from an Istrian farm in Klarići village. Each piece of meat is hand-picked ​​and then dry aged for 36 days under controlled humidity and temperature conditions to enhance its naturally delicious taste, and then sliced. The result is the tastiest, juiciest and tenderest steak that will simply delight you. An ideal weekend treat that will turn your meal into a real feast with a rich salad and potatoes.
 
MATURED BEEF SIRLOIN BLACK ANGUS STEAK WITH BONE
Matured beef meat for 2+ servings - DEFROSTED
Ingredients: beef from loin and back with bones
 
Net weight: 700 g
Store at + 2 ° C to + 4 ° C
 
Produced by: Valamar Riviera d.d. Porec Stancija Kaligari 1
Country of origin:
Croatia Black Angus beef comes from the Istrian farm OPG Orlić, Klarići.
Packaged in a protective atmosphere.
The natural ageing process is 36 days.
Instructions for consumption: the meat must be heat-treated before consumption. Do not break the cold chain. DO NOT FREEZE.