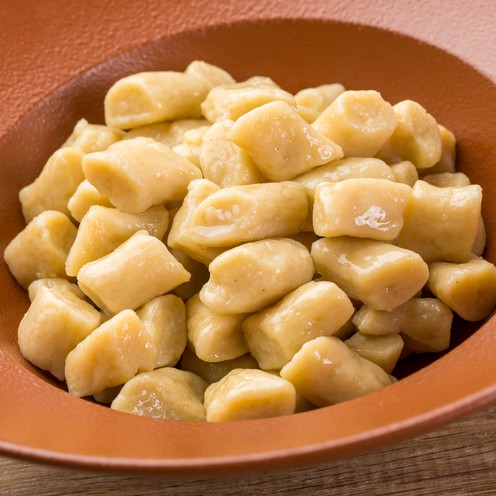 VALFRESCO
Homemade Potato Gnocchi for 4 persons (1 kg)
Unit of measure: Kg, Price per single unit:
(VAT included in the price)
Homemade, freshly cooked potato gnocchi are prepared to be like those made by grandma. These gnocchi will be adored by just about everyone, and they will go perfectly with our boškarin (Istrian Ox) or beef stew, as well as all other sauces in our offer.
 
Preparation: Remove the gnocchi from the packaging and heat in salted boiling water for two minutes and drain or heat in the sauce and serve.
 
HOMEMADE POTATO GNOCCHI
Ready meal for 4+ servings
Ingredients: cooked gnocchi 96% [gnocchi (potato 66%, WHEAT flour, EGGS 3,65%, salt, oil), water, salt] sunflower oil
 
Net weight: 1000 g.
Store at temperatures +4°C up to +8°C.
 
Nutritional infomation - typical value per 100 g of product: energy 897,9 kJ/ 212,5 kcal, fats 3,9 g of which saturates 0,8 g, carbohydrate 34,5 g of which sugars 0,9 g, proteins 5,3 g, sodium 2,8 g
 
Produced by: Valamar Riviera d.d. Porec Stancija Kaligari 1
Made in Croatia.