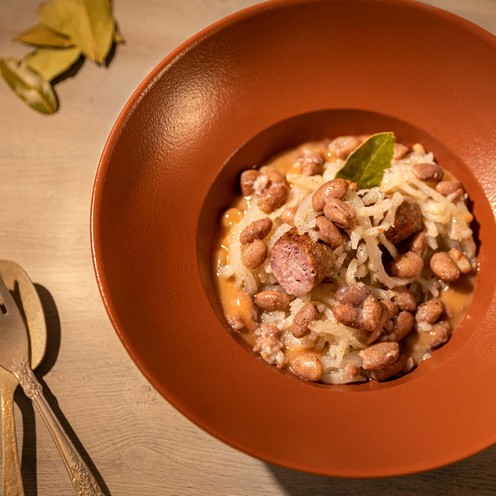 VALFRESCO
Beans with sour beet for 4 persons (1,8 kg)
Unit of measure: Kg, Price per single unit:
(VAT included in the price)
Homemade sour beet stew with beans is a real dish for nourishment. It is made from delicious and home-made ingredients - sausages from our production from pigs raised on a local family farm, pickled beets and dried ribs from an Istrian producer.  Add this delicious dish to your menu!
 
Instructions for consumption: remove the desired amount of food from the package, place in a bowl and heat on the stove or in the microwave.
 
BEANS WITH SOUR BEET
Pea with sour beets for 4+ servings
Ingredients: pickled beets 45% (pickled beets, water, salt, preservative: potassium sorbate), vegetable sauce (onion, water, celery, carrots, garlic, sunflower oil), beans 11%, homemade sausage for roasting (pork 73 %, pork fat, white wine (SULFITI), garlic, salt, pepper, spices, edible casing: small pork intestine), dried pork ribs (pork with bones - pork ribs, table salt, natural spices (laurel), natural smoke (beech wood)], water, lard (lard, onion, MILK), pesto - notch (pork dry and cooked meat, lard, table salt, preservative: sodium nitrite, antioxidant: sodium ascorbate, flavor enhancer: monosodium glutamate, natural spices, natural smoke aroma, NUTS, parsley), salt, pepper, spices. Contains traces of GLUTEN, EGG, SOY, SESAME and MUSTARD.
 
Net weight: 1800 g
Store at temperatures from + 2 ° C to + 4 ° C.
 
Nutritional information - typical value per 100 g of product: energy 623.0 kJ / 149.5 kcal, fat 10 g of which saturated fatty acids 4 g, carbohydrates 8 g of which sugars 1.5 g, protein 7 g, salt 1.4 g .
 
Produced by: Valamar Riviera d.d. Porec, Stancija Kaligari 1
Made in Croatia.